Everything you ever wanted to know about Dynamics CRM
Thinking about implementing Dynamics CRM in your business?
Deciding on a CRM vendor can be tricky; it gets even trickier when you're sizing up Microsoft Dynamics CRM, with its recent rebrand and multitude of licensing and deployment options.
So, if you've got questions about Dynamics CRM, we've got the answers. Check out our Dynamics CRM FAQ to get the skinny on this leading customer relationship software.
Dynamics CRM: the basics
What is Dynamics CRM?
Dynamics CRM is a piece of business software, made by Microsoft. It's a customer relationship management software that helps businesses manage their customer database, generate new leads, engage with their customers, and resolve customer service issues.
At its most basic level, it's a database which helps businesses to organize and manage their customer and lead data. Through the software, users can contact customers and leads, which records and tracks every customer interaction. This allows a business to build a complete picture of its relationship with its customers so that the customer journey can be personalized.
Dynamics AX is part of the Microsoft Dynamics suite, which contains both ERP and CRM software (which Microsoft now refers to as "apps").
Originally launched in 2003, the Dynamics suite was made up of five products: Dynamics NAV, Dynamics AX, Dynamics GP, and Dynamics SL, all ERP software; and Dynamics CRM.
How does it relate to Dynamics 365?
In November 2016, Microsoft rebranded its Dynamics suite, rolling all of its CRM and ERP products into one umbrella product; Dynamics 365.
Dynamics GP and Dynamics SL remain standalone products, but the other software was renamed and rolled into Dynamics 365. Dynamics AX became Dynamics 365 for Finance and Operations, Dynamics CRM became Dynamics 365 for Sales, and Dynamics NAV was revamped as Dynamics 365 Business Central. Some of the apps' functionality was spun off into smaller, modular software, so businesses can pick and choose the features they want.
Within Dynamics 365 there are nine major apps, some CRM and some ERP. What was previously sold as Dynamics CRM has now been split into four apps; Dynamics 365 for Sales, Dynamics 365 for Customer Service, Dynamics 365 for Field Service, and Dynamics 365 for Project Service Automation.
For brevity, the rest of this FAQ will refer to these CRM apps collectively as Dynamics 365.
Who uses Dynamics 365 and why?
Today, customer data is a company's most valuable asset, and businesses are increasingly turning to technology to help them get more out of their data.
Dynamics 365's CRM apps have millions of users worldwide; the official figure in 2015 was 4.4m. The majority of businesses who use Dynamics 365 are SMBs who sell products or services, though recent product developments and the appeal of Microsoft's Azure cloud service are attracting larger businesses in increasing numbers.
Aside from its many cutting-edge features, many customers are attracted to Dynamics 365 due to its easy integration with other widely used Microsoft business products such as Outlook, Power BI, and Office. In addition, Dynamics 365 features a range of other business management products, such as ERP and marketing apps, making it a tempting option for businesses who want to overhaul processes across the board or create a single digital platform for their all their operations.
Its familiar, user-friendly interface is also a plus for many businesses, and can help increase user adoption due to its similarity with other Microsoft products.
How can it help businesses grow?
Dynamics 365 brings all sales and customer data together into one system, offering users a single source of truth. This gives users a complete picture of their customers' journey, helping them track customer journeys, generate and assess leads, and seize opportunities.
/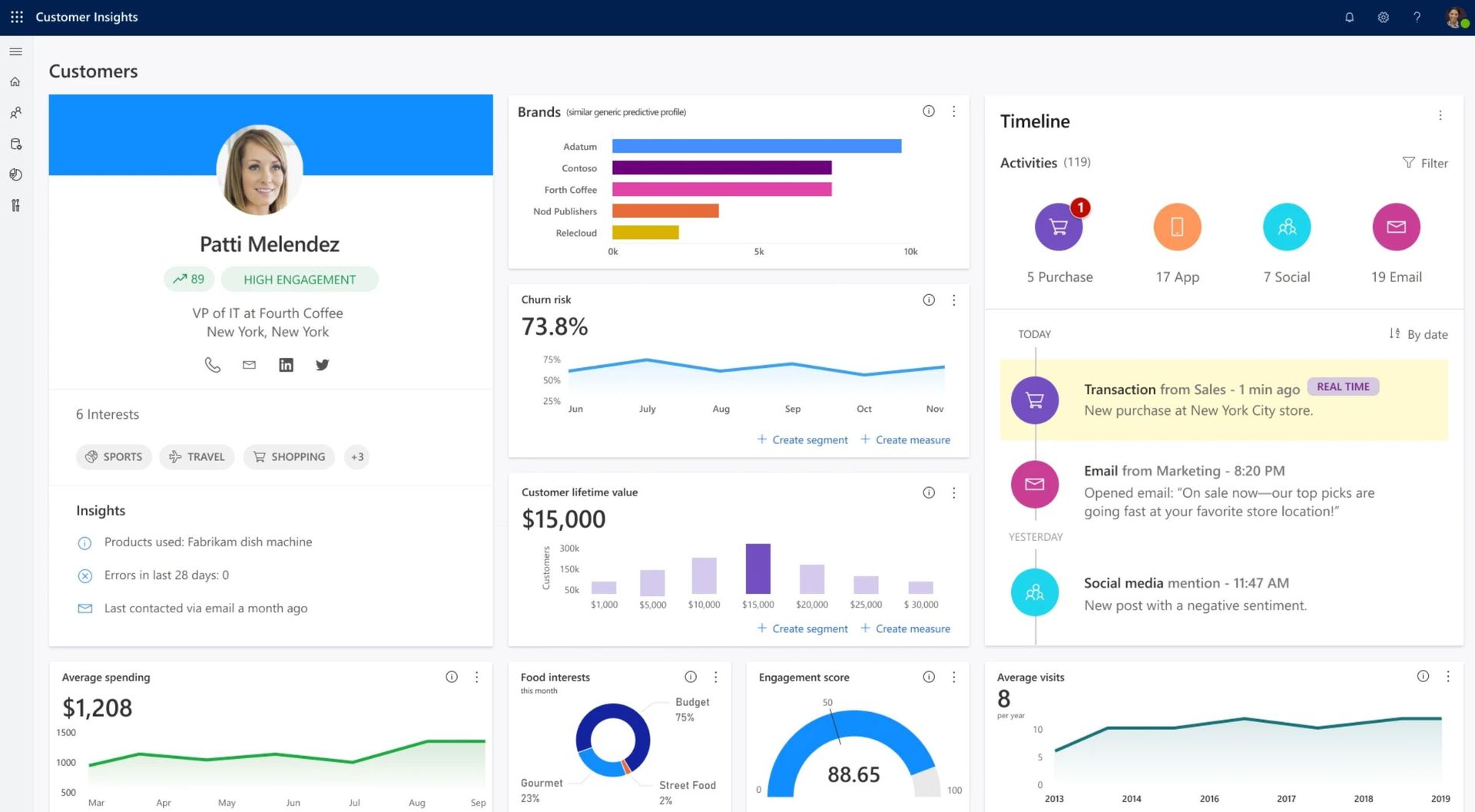 By helping users connect with their customers and offer better, faster service, the app can help boost customer satisfaction at all points of the sales funnel, and improve long-term brand loyalty. By automating certain aspects of the sales and marketing process, businesses can operate more efficiently by reaching more customers while saving time and money.
Mobile capabilities and apps like Field Service make it easier to offer great customer service from anywhere, allowing businesses to go where the opportunities are.
The app's in-depth analytical and reporting capabilities also help organizations to get more out of their businesses data, respond to changes faster, and make more-informed decisions that will help their business grow.
Dynamics CRM/Dynamics 365 apps
What does Dynamics 365 for Sales offer?
Dynamics 365 for Sales allows users to manage their sales processes from beginning to end, from lead generation and pipeline management, to account management and reporting. The app centralizes all an organization's sales leads into one place, helps collect data, and automates repetitive areas of the cycle, so salespeople can focus on building relationships and nurturing opportunities.
The system can automatically score, qualify, and assign leads, and provides real-time analysis at every stage of the process to help users focus their efforts in the most profitable areas. All sales and marketing activity is logged in a single view, so salespeople get a complete picture of their organization's relationship and previous contact with a customer, making it easier to deliver great service, and spot up- and cross-selling opportunities.
The app can also issue intelligent, automated reminders and actions to keep leads moving through the pipeline and make sure no customer falls through the cracks. Extensive, AI-infused reporting capabilities help highlight successes and opportunities, and with the in-built gamification feature, organizations can encourage productivity, user adoption, and boost employee engagement.
One of the features that marks Dynamics 365 out from other leading CRMs is its native integration with LinkedIn. Since its purchase of the networking platform in 2016, Microsoft has been working to integrate LinkedIn user data with its products, and for salespeople using Dynamics 365, having access to information on the site's 500m users and their connections is a massive boon.
Users told Gartner that Dynamics 365's strengths include the ability to customize its application with custom fields, custom objects, workflows and a customized user interface, and the quality of its customer engagement processes. Users also commented on how valuable Microsoft Dynamics' integration with other products—such as Microsoft Exchange, Office 365, SharePoint, Azure Machine Learning, and Power BI— has proved.
What does Dynamics 365 for Customer Service offer?
Dynamics 365 for Customer Service helps businesses better manage customer issues, and help customers find answers to their queries fast. Features like automated chatbots and self-service portals let customers do more without having to contact customer service agents, freeing agents up to deal with more complex cases, and helping close cases more quickly.
Microsoft Dynamics 365 for Customer Service aims to help users deliver personalized customer service to their customers, at any time, on any channel. Offering a mixture of assisted service management, and self-service opportunities such as customer portals and peer-to-peer support, Customer Service provides agents with the tools and resources they need to add value to their customer interactions, no matter what medium they're working through.
Through a centralized interface, Customer Service enables agents to create cases, record all customer interactions, and solve queries through the customer's preferred channel. Shared knowledge bases within the app mean agents are always clued up on customer case histories and preferences and can offer accurate information on company policy and entitlements.
What does Dynamics 365 for Field Service offer?
Dynamics 365 for Field Service enables users to manage work orders, scheduling, and assignment of resources for service agents who work outside of the user's office.
The app also provides a central, accessible repository for resources such as manuals, documentation, and training materials.
Work orders can be generated from customer services cases, through customer portals, or emails, and assets, inventory, and equipment can be managed and re-ordered in real-time. The app also helps users keep on top of preventative maintenance by automatically generating recurring work orders.
The app gives field agents a channel through which they can access all the information they need when out on a job, and lets them communicate and collaborate with both their customer service colleagues and customers themselves.
It also enables users to assign jobs based on employee skill and experience levels and optimizes routes to maximize efficiency and reduce travel time for field agents, improving efficiency for the business, and giving customers a better experience.
Like all apps in the Dynamics 365 family, Field Service is highly mobile-friendly, with mobile and tablet apps available across Android, iOS, and Windows devices.
What does Dynamics 365 for Project Service Automation offer?
Project Service Automation is an app built to help project-based organizations deliver on time and on budget with a series of tools to plan, resource, and execute billable work, and help keep all of those plates spinning.
The app covers the entire span of the project lifecycle, centralizing teams and offering features to optimize opportunity management, project planning, resource management, time and expensing, team collaboration, customer billing and collection, and includes thorough analytical dashboards to help businesses further improve their processes.
Building on the foundation of Microsoft's work breakdown structure planning software, Microsoft Project, Dynamics 365 for Project Service Automation ties together all aspects of project delivery, looping in other crucial aspects of the business such as salespeople.
Its project-based contracting feature helps generate accurate quotations, based on real-time information from across the business such as project plans, financial estimates, and labor pricing, and considers factors like profitability and feasibility.
Project Service Automation also comes with the Project Resource Hub app, which allows field workers access to all the information they need, and gives them a channel through which to effectively collaborate with colleagues on any device.
Built-in intelligence automates key processes such as assigning tasks based on skills, availability, and forecasting metrics. The results and financial impacts of all projects — such as costs, unbilled revenue, and invoices — are fed back into the app's analytics, and shared with the business's financial systems and ERP software.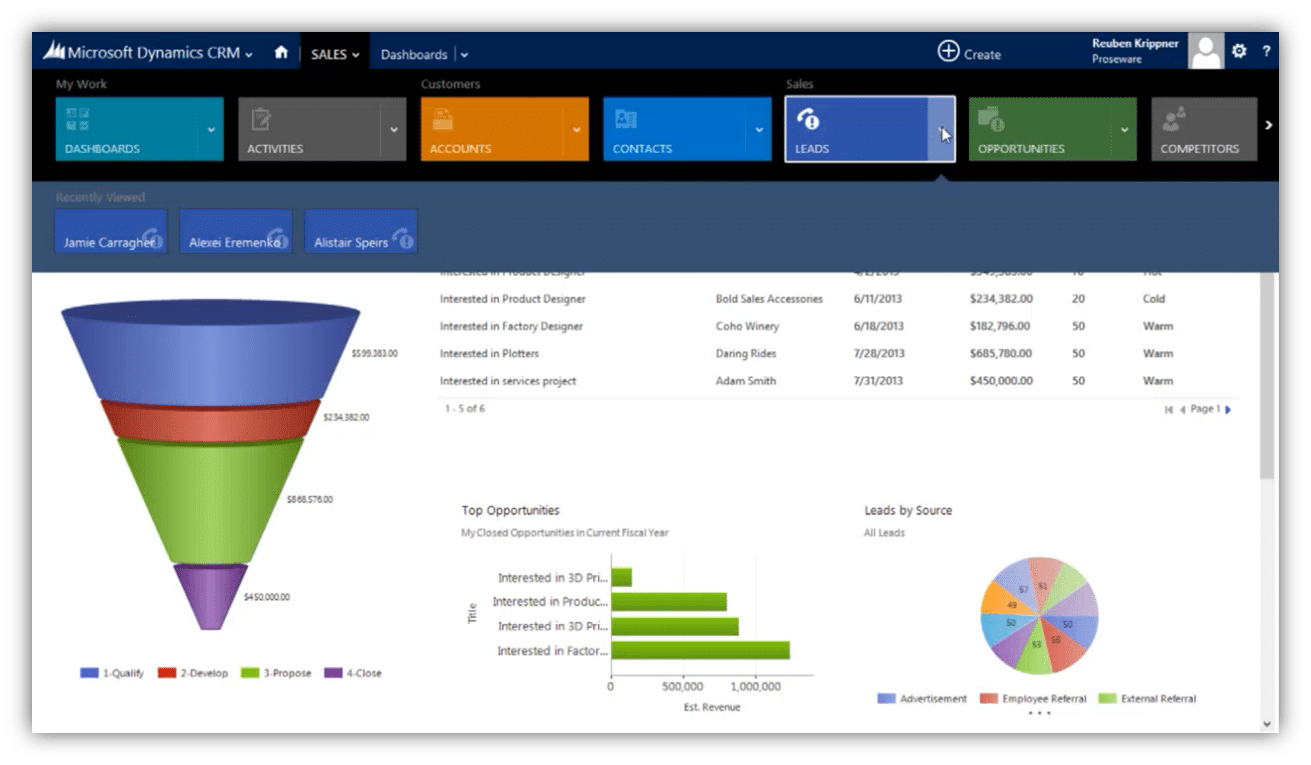 Dynamics CRM/Dynamics 365: the technical stuff
What releases are currently available?
Now that Dynamics CRM has now been retired in name, new customers who want to purchase Dynamics CRM will now purchase Dynamics 365. The most recent release is known as Dynamics 365 Version 9.0.
Some existing customers who have not yet updated their software to the newest version will still be running Dynamics CRM. This is especially likely if the customer is using a local, or on-premise, version of the software, as opposed to a cloud-based version.
Previous versions (before the branding change to Dynamics 365) include: Microsoft Dynamics 3.0, Microsoft Dynamics 4.0 (though support has now ended for both of these versions), Microsoft Dynamics CRM 2011, Microsoft Dynamics CRM 2013, Microsoft Dynamics CRM 2015, and Microsoft Dynamics CRM 2016.
What are the system requirements for Dynamics 365?
System requirements for Dynamics 365 will depend on how the software is deployed.
One of the benefits of using a SaaS instance of Dynamics 365 is that the software doesn't need to be installed on the user's own device or devices, so implementation is generally simpler and faster, and there are much fewer system requirements. This makes a cloud-based option particularly appealing to smaller businesses who would otherwise be priced out by the cost of extensive hardware outlays and upkeep.
To run a cloud-based version of Dynamics 365, all customers need is an up-to-date version of either Microsoft Edge, Internet Explorer, Google Chrome, or Apple Safari, using an operating system no older than Windows 7 for PCs, or 10.10 for Apple devices.
Dynamics 365 comes with no hardware requirements as the software itself is not installed on local computers, but on the host's own servers—though of course the more memory a device has, the more quickly and reliably it will be able to run web browsers.
For on-premise deployments have more complex requirements. Microsoft recommends that your hardware meets the following requirements to run Dynamics 365 on-premise efficiently:
Processor — x64 architecture or compatible dual-core 1.5 GHz processor minimum. Quad-core x64 architecture 2 GHz CPU or higher such as AMD Opteron or Intel Xeon systems recommended

Memory — 4-GB RAM minimum, 8-GB RAM or more recommended

Hard disk — 10 GB of available hard disk space minimum, 40 GB or more of available hard disk space recommended
Dynamics CRM/Dynamics 365: pricing, licensing, and deployment
How is Dynamics 365 licensed?
New Dynamics customers wishing to purchase CRM software have three options:
Purchase apps individually, for example, licensing only the Sales and Customer Service apps if those are the only ones a business needs at present.

Purchase the Customer Engagement Plan, which includes the four core CRM apps, as well as a social media management app called Microsoft Social Engagement.

Purchase the Dynamics 365 plan, which includes both CRM apps and ERP apps.
However customers choose to buy Dynamics 365, it is purchased by "seat." A seat is an individual license that gives access to the software to one, named user. So, rather than purchasing the software as a whole and having unlimited access to it, customers purchase access on a user-by-user basis. These licenses are priced monthly.
There are two types of seat when it comes to Dynamics 365. Customers can either purchase a Full User license, with gives users access to all the functions and features of the app, or a Team Member license, which gives the license holder limited read/write access to certain basic areas. Customers can mix and match these license types to suit their users and their required levels of access.
For example, if a business decides on the Customer Engagement plan, they might purchase 10 Full User seats, and an extra 15 Team Member seats. This means that the ten people given Full User seats will be able to use all of the features of all of the apps included within the plan. The people given Team Member licenses will also be able to access all of the included apps, but they will only be able to use certain features, such as accessing schedules, recording time and expenses, and submit reports.
How is Dynamics 365 deployed?
Customers can opt to deploy Dynamics 365 in one of three ways:
Cloud
Software that is not installed on a user's own device, and instead accesses through logging into the software a web browser, is known as SaaS, or software as a service. Customers opting for this deployment route will use a version of Dynamics which is hosted in the cloud—meaning it is installed on the vendor's own servers and accessed remotely via the internet. SaaS instances of Dynamics 365 are hosted either Microsoft's public Azure cloud or on a managed Azure service provided by Microsoft partners.
This option allows users to take advantage of cloud-only features like integration with other programs, and smart reporting functions powered by machine learning. Using Dynamics 365 in the cloud also removes the need for hardware and in-house data storage, and means users don't need to install or manually update the software, as it is all managed from the vendor's end.
As the data is stored on the vendor's hardware, users may need to pay to "rent" extra space for their data when using a SaaS product.
On-premise
Known as Local Business Data deployment, this is the "traditional" way to deploy software and allows users to host their Dynamics 365 software either on their own servers or those of an IT partner. Businesses using Dynamics 365 on-premise will install the software on their devices and store all the data on their own hardware.
On-premise instances of Dynamics 365 may be a good choice for businesses who need to host their own data due to data regulation, or do not have a stable enough internet connection to reliably access a SaaS version of the software.
Hybrid
Also known as Cloud and Edge, hybrid deployments are fully integrated with the Microsoft cloud, but transactions and data are stored locally on the users' own data center and synced as and when needed.
The ability to use the system offline can be useful to industries in which business continuity is especially important, such as retail or manufacturing. Cloud and Edge deployment allow customers to run their Point of Sale operations regardless of connectivity so that users can capture data and perform transactions whatever their internet status. Any data obtained offline can later be synced to the cloud for business intelligence or reporting purposes at a later date.
Job specs? We can ta