Enterprise Resource Planning Applications Done Your Way
Odoo believes in making organizations better, one great ERP application at a time
Business software should cover all your complex needs without being complicated. It should be an enjoyable and smooth experience designed for seamless adoption by users. Odoo offers this with a modern and stylish technical design within a unique framework that is intuitive, tightly integrated, and effortless to upgrade. Odoo allows organizations of any size to manage a first rate platform that has applications scalable and flexible enough for any applications to be added according to the organizational growth, adding one great application at a time as needs evolve and customer base grows.

Fully Functional
Intentional Solutions ensures the Odoo family of applications from development to staging to deployment all work together in full functionality to give your business the ability to automate and track all your ERP system modules from a centralized, online platform tightly integrated with GitHub. Odoo offers enterprise grade release cycles and can be stationed on premises or in cloud with PaaS + laaS full stack out of the box and accessible from anywhere with any device.
Leverage

thousands of developers with the largest ecosystem of fully integrated business applications.

Single

platform built for running your business with integrated applications that are kept simple.

Staging

servers in series as a regular practice to test new features with your own data before deployment.

Comprehensive

enterprise resource planning overview given without repeated data inputs.

Reduce

response times by escalating or investigating issues without logging into different systems.

Unlimited

email gateways that are auto configured with 24/7 monitoring and maintenance.

Live

Replication

of all data with daily incremental backups ensures your data is never lost.

Manage

core business assets from a central place, while updating the original data sources.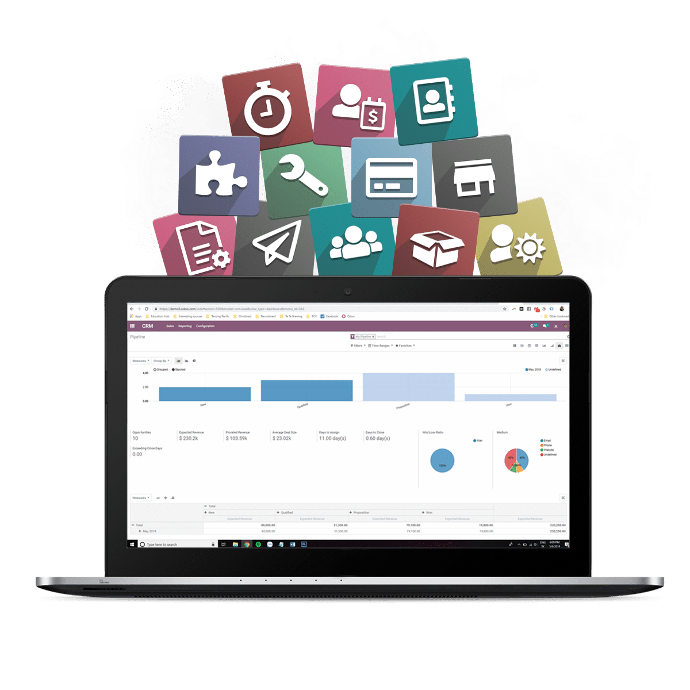 Odoo is Flexible & Evolving
It will work for you. Now and into the future.
CRM
Customer Relationship Management in Odoo shows leads and opportunities, allows management of each stage, and analyzes the results.


Warehouse
The Warehouse Management functionality in Odoo allows you to manage multiple warehouses in different locations around the globe.


Sales Management
Manage sales leads, processes, and data easily and effectively from start to finish with a best in class conversion rate for profitability in business.
Accounting
Complete transactional management of finance and accounting using multiple standardized accurate method strategy options
Point Of Sale (POS

)
Odoo POS system modules offer clean user interface for immediate sales, inventory, and accounting and related solutions all integrated.
Project Management
Smoothly handle administrative work and effectively store administrative work data to reduce costs while simultaneously increasing productivity.
Human resources
Odoo provides a strong, dynamic, and feature rich HRM module with the grouping functionalities needed to address all your HR needs.


Purchases
Odoo Purchase Management module will automate procurement propositions, launch requests for quotations and validate authorizations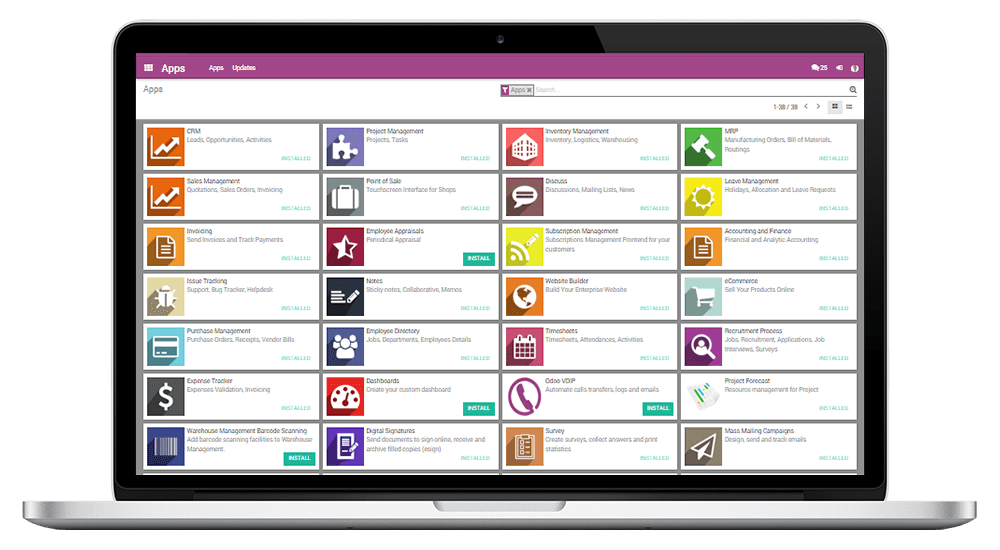 Multitudinous Modules
Odoo is the ERP system with accessible tools designed for most applications, and for all users, so your business can minimize redundancy and streamline workflows. You use many different software systems and applications in combination on a daily basis, and every user in every department has their own combination preference. There are hundreds of Odoo modules offered including the basic foundations of any company;
All-inclusive

platform with

Sales, Operations, Productivity,

and even

Website Builder

modules.

Manage

leads, opportunities, tasks, issues, requests, claims, schedule meetings with CRM modules.

Forecast

needs and resources, Gantt Chart, deadline calendar with Project Management modules.

Create

reoccurring invoice, track drafts, bill timesheets, manage contracts with Invoicing modules.

Manage

multiple locations, stock points, delivery orders, replenishments with Warehouse modules.

Account

for receivables, payables, control supplier bills, easy reconciliation with Accounting modules.
Odoo Modules for Every Need
Apps that build great user experience to boost your success rate.
Sales Operations Productivity Online
Sales Modules
Boost your success rate with Odoo sales using real-time sales analysis for total value of quotation and sales order, or analysis of sales team over time for both product category and customer group. Some of the modules in sales include CRM, Invoicing, Point of Sale, Subscriptions, e-Signature, and Rental.
Quotation

software with eSignature and online payment with automated templates and complete records.

Accurate

forecasts with actionable data for real-time overview CRM keeps you connected to your customers.

Quotations

can easily become invoices with status overviews and automatic transaction records for sales analysis.

Point of Sale

compatible with any hardware and automatic inventory integration for productivity online or off.

Subscriptions

management for recurring billing and sales tasks management to forecast future business potential.

eSignature

allows for support at every level of organization with secure identification and document integrity.

Rental

software from quotations to invoices and from deliver to return managed from a single professional platform.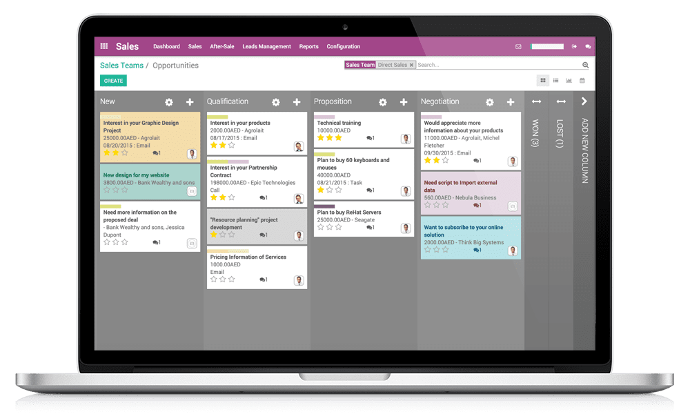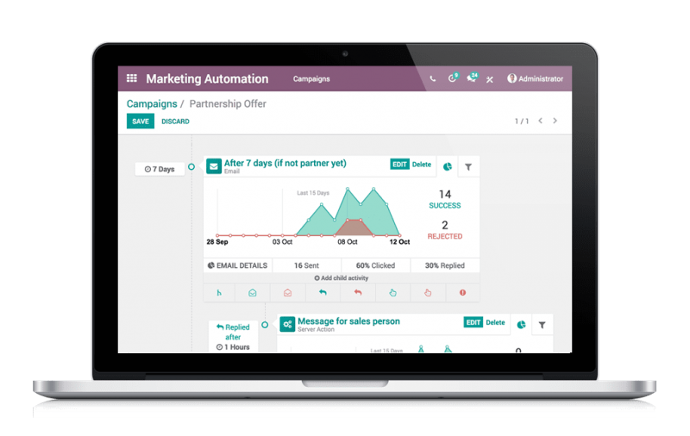 Operations Modules
Operations is about efficiency and collaboration between departments such as Accounting, Project Management, Human Resources, Inventory, Purchasing, and more. In every industry, from manufacturing to service, the company must be able to handle every operational process from the help desk to field service.
Bank synchronization

with clear dynamic statements and automatically recorded transactions for easy reconciliation.

AI accounting

using image and metadata recognition to simplify the workflow with extreme accuracy automation.

Modern interface

for project management allows users to conceptualize visual information to forecast needs and resources.

Human Resources

is a compendium of comprehensive modules; Referral, Recruitment, Employees, Expenses, Appraisals, and more.

Warehouse efficiency

with improved performance, process time, and traceability, and with fully automated replenishments.

Manage suppliers

and purchase orders with automated purchasing workflow, supplier price lists, and product availabilities.

Manufacturing

MRP, PLM to track time display worksheets, register production, integrate quality checks, and report KPI's.

Maintenance

software for precise maintenance scheduling with dashboard statistics to optimize performance.
Productivity Modules
The best tools make the most productive users. Odoo declares that Great Tools = Happy People, and we at Intentional Solutions completely agree. Odoo productivity tools are diverse and powerful from Communication, Marketing, to Timesheet, Survey, Approvals, Appointments, and Planning. They have also included an integrated Spreadsheet and Documents module.
Engage

with colleagues and customers in live chat from any device with options for private channels, groups, and notifications.

Track time

and forecast needs and resources, even while offline, for individual and team productivity to timely invoice clients.

Manage

social media, web notifications, and live chat while also planning, monitoring, and analyzing all accounts in one place.

Marketing

with segmented database for amazing campaign builds and advanced features to track links and calculate ROI.

Automate

much more than email campaigns with an efficient automated lead management system that is SMS compatible.

Appealing

surveys easily designed, tested, shared, collected, and analyzed with live sessions for immediate results benefits.

Automated

workflow actions for request, notification, and final approval validated or declined immediately.

Customize

appointment forms to prepare and provide professional service with automatic rescheduling reducing no-shows.

Internet of Things

connectivity with easy setup to integrate tools, cameras, and switches flawlessly into the business process.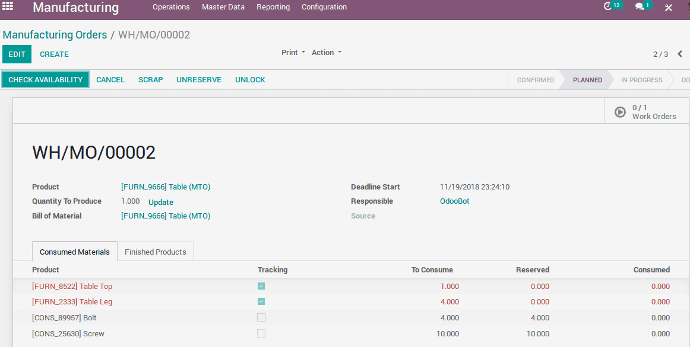 State of the Art Services
Solutions… A click away.

Odoo Customizations
The requirements gathering process will clarify the path to the perfect Odoo deliverable solution.
Mobile Application
We offer advanced mobile application development services for your business requirements. Odoo Training
We have many years' experience with module application functional and technical training.

Odoo e-Commerce
Solutions provided for innovative and creative solutions by our professional advisory team


Odoo Training
We have many years' experience with module application functional and technical training.

Web Development
Integration with all Odoo ERP modules fulfill the needs of a business to operate without issue.



Odoo Development
Odoo development enables you to use smooth ERP solutions for critical business processes.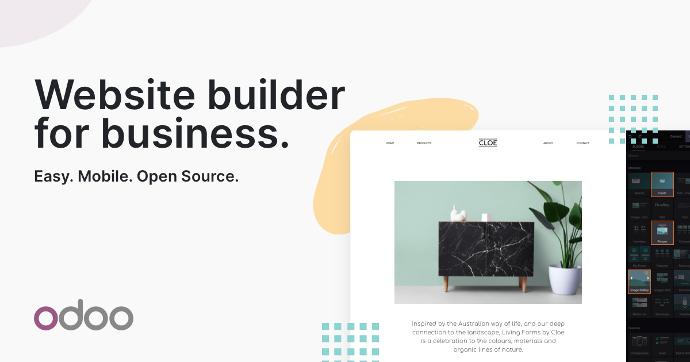 Website Builder
No need to know code. Just drag and drop business features to get an out-of-the box website. Web features such as eCommerce, customer portal, events, and blog can be added as your organization grows. Extend the website with hundreds of Odoo add-on modules. Easily build a website that automatically adjusts to your brand and style guidelines. Branding is critical for business success and Odoo provides you tools to easily achieve branding needs.
eCommerce

is integrated with inventory and sales easily maintained via automatic stock adjustments and reporting.

Dedicated

customer portals keep customer data organized with order tracking, claims, invoices, and pending shipments.

Blogs

and news stories are developed on the front-end and designed to share easily on any device with smart call-to-actions.

Forums

encourage collaboration and allow anticipation of customer needs while driving relevant traffic to your website.

Events

can be organized, published, and promoted for both on-site and online promotions with full integration of other apps.

Answer

customers questions in real time with live-chat direct through your website accessible from within any module.

eLearning

driven with active assessments and certifications with progress engagement metrics all on a beautiful user interface.
Odoo vs. MS Dynamics
A features comparison of ten categories including Sales, CRM, Accounting, Marketing, Warehouse, Manufacturing, Purchasing, Services, HR, and Usability between Odoo and MS Dynamics show a consistent advantage to adopting the Odoo ERP platform. This is especially true for growing companies that are looking for scalability with an ease-of-entry software solution without the need for complexity of task with high level overhead. These growing companies can add new features as the business expands and develops. The flexible and modular approach gives the business the necessary liberty to adapt to change quickly.
Odoo's highly modular solution allows growing businesses to start with a few apps and to adopt more as their needs change and evolve. Each business function is carried out by a dedicated application because your needs will never stop fluctuating, especially in a growing company. These powerful and dynamic solutions are now available so your business needs can be met not only today, but also met for your business in the future. Planning for long term success with an easily adaptable software solution is the correct decision in the long-term evolution of your business.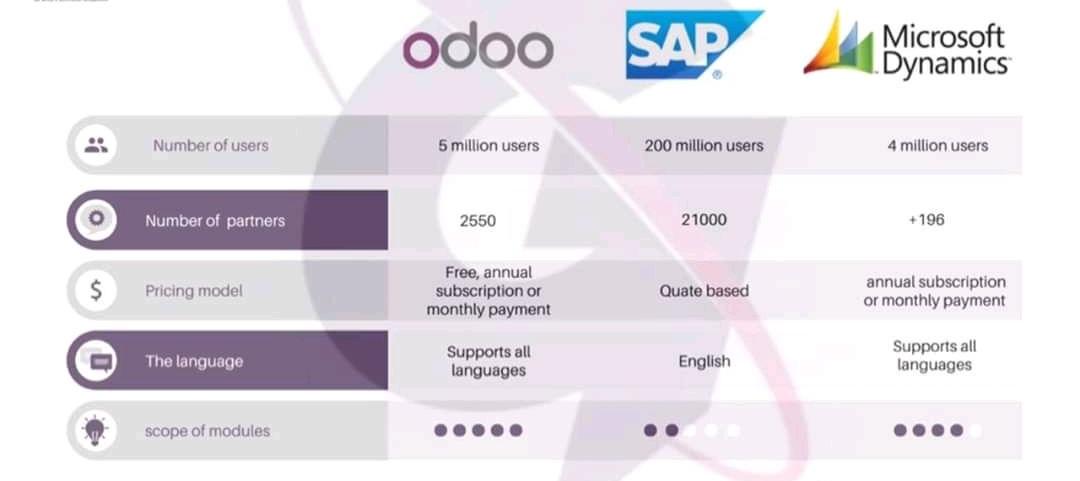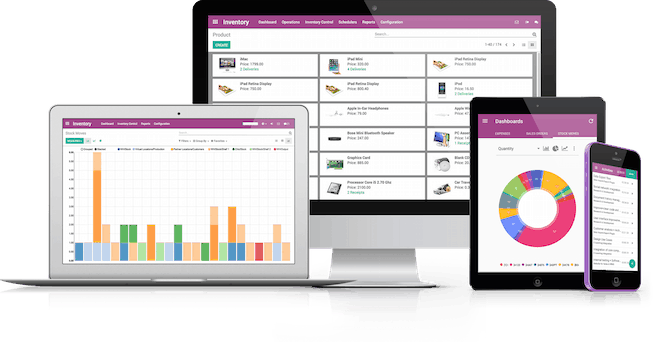 ​Amazing experience, everywhere, every time.
Odoo is used by businesses of every sizes in every industry, by every kind of user with the best results every time. Odoo can integrate with other systems, including payment processors and external shipping systems, such as those of Amazon, eBay, UPS, FedEx and QuickBooks. Use the Odoo ERP to its full potential by combining the front-end and back-end tools to help interconnect a fully-integrated experience from application to application. Users can automate processes instead of using manual inputs across multiple applications.
e-Commerce

ready with shopping carts combined with backend drafts of quotations or sales orders integrations.

Direct Messaging

with collaborative push communications in all systems with real time updates and responses.

Functional

user interface can be applied to mobile applications with flexibility for information fields capture.

Framework

to fit organizations specific needs naturally incorporates streamlining modular enhancements.

Adaptable

and configurable for enhanced workflow needs and scalable as business or user demands increase.
Key Odoo Third-party Integrations Using APIs
Shipping Integration
Shipping is a critical process associated with manufacturing businesses. It is necessary that products produced reach to the customer in the given time period. In-time delivery will increase customer satisfaction and retention.
United Postal Service (UPS): It is one of the most popular and highly used shipping services. Odoo is integrated with UPS
to carry out shipping processes efficiently within Odoo. It has the ability to track information and generate labels in Odoo for every delivery order.
FedEx: It is a third-party logistics provider that encourages businesses to discover the true value of their supply chain by developing tailored logistics solutions. Its functionalities include live shipment tracking number, automatic/manual packaging options, multi-package shipment, and shipping label generation. It is compatible with all versions of Odoo.
Payment Gateway Integration
Integration with payment acquirer will enable businesses to carry out transactions with credit/debit cards to acquire money from clients across the globe.
Social Media Integration
Social media integrations are important for the success and growth of businesses. Social networking sites like LinkedIn, Facebook, Whatsapp, and Twitter enables businesses to quickly spread messages to the intended or targeted audience group.
SMS Gateway Integration
An SMS API enables businesses to integrate Sms services with their website, third-party applications or CRM. SMS service providers use API to make a good connection between ERP/CRM and SMS service provider. SMS API enables businesses to access any service of APIs provider directly from the personal application.
Fulfilling Businesses Specific Requirements with Odoo Integration Services
Improve business efficiency and gain better visibility into on-going business operations with our Odoo customization services. We follow a strategical approach to integrate Odoo with third-party providers.